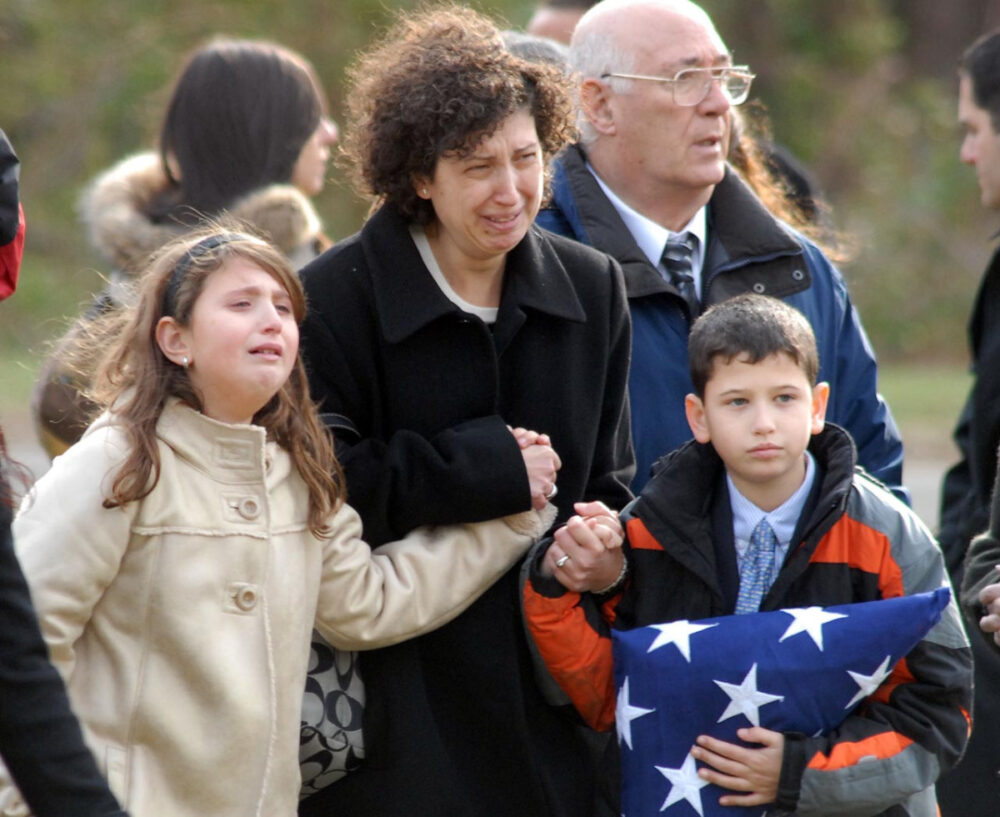 It's an image that to this day makes me emotional. 
It's an image that I wish I didn't have to make.
It's an image and moment, I will never forget.
It's an image that 11 years later, one of the sons of the surgeon whose funeral I covered that cold day in January reached out to me via email.

The boy, now in his teens wrote, 
"Hello, my name is John Pryor, you might not have remembered but back in 2008 you took photos for my dads funeral service (John Paul Pryor MD). I was 4 years old when he died and I don't remember the funeral. I have looked at all the phots on Getty images but I was wondering if the was even a small chance you have anymore it would mean the world to me thank you.
John Pryor"

I responded, hesitantly within a day or so. Hesitant because the last thing I wanted to do was bring up the trauma of his fathers passing in Iraq.The boy's father, Dr. John Pryor, 42, of Moorestown, New Jersey, passed away tragically on Christmas Day 2008 in Iraq, where he was a member of the US Army Surgical Unit. Pryor was assistant Professor of Surgery and Director of the Trauma Departmentat the University of Pennsylvania Hospital in Philadelphia, Pennsylvania. The man was beloved by all who knew or met him. A great father, husband, and all around special human being.
I asked him to give me a few days and I would look through the archives to see if I could find the folder from that January day.

Within a few days, I had located and set up the gallery so the boy could view them. I know it's generally not protocol for a photojournalist to show outtakes from an assignment. This, I felt I needed to do. My gut told me it might help the boy in some way to get some kind of closure. Even knowing that while my own father died in 2012, I'm still not ok with that. 

I wrote the boy, now young man, "Your father's funeral is one assignment I will never forget. What I recall most is that fact that when you and the rest of your family were walking away from the gravesite and I was making pictures I remember being thankful that no one could see me behind the camera because I was probably crying as much as anyone else in attendance." 

I went on to write, "I also recall being upset with my assignment editor that day because she wanted me to make pictures at the cemetery. None of my colleagues from any of the other major wire services, or my fouler colleagues at The Philadelphia Inquirer had plans to make pictures there. And I told my editor that I didn't believe anyone would allow me to make pictures at the cemetery. She told me to reach out to the funeral director, who in turn reached out to your mom, and she agreed that I could make pictures at the cemetery as long as I stayed back and shot with a long lens. As far as I know I was the only one that she agreed to allow into the cemetery at the time. I never did have chance to thank her, so, please tell her Thank You for allowing me to intrude that day. It was probably one of the hardest events I have covered. And not something I would ever want to do again."

So, with the gallery setup, I sent the link to John. He responded, "Hello the image you are talking about is my mom with my older sister and my older brother. We still live in Moorestown and our family has been doing well. I have come to notice that as I grow older I find new grief related to my dads death. I am very thankful that you took the time to help me it means a lot. I understand how my dads funeral must have been hard but I thank you because I now have the opportunity to see it and fully process it."

In my email reply, I opened up about the death of my own father, thinking I may be able to help the boy, I wrote, "My father passed away in 2012. I find that I still am not over it. Every where I turn there is always something there that will remind me of him. Sounds like you are having similar feelings. The way I look at it is that while I'll never get over the loss, I will just have to learn to live with it, eventually. It just takes time."
John wrote back that he was sorry to hear about my father and it meant a lot to him.

A few hours later, I received another email from John. It still to this day brings tears to my eyes.

So many times I feel that as a photojournalist, what I do doesn't matter. I feel as though no one appreciates or understands what we do. Picture do not lie, and our efforts to tell the truth visually rarely are thanked or appreciated. We are at times an afterthought as far as the chain of command ay newspapers and magazine go. 

But, this response, made whatever I do photographical, or wherever I might make picture, no matter what the subject matter.

At least to me.

For one moment in time.

It is a response I am forever grateful for and will never ever forget.

John responded, "Mr. Cain words can not describe how thankful I am for these photos. Every photo helped me remember that day. I've seen pictures of family I didn't think was there. You helped me see with my own eyes how many people cared for my father and that is something only you could have given me. I had doubts reaching out to you, I didn't know if you would have remember or be too busy to respond. But you did and I am forever grateful for your compassion. My mom is grateful too. She told me that she aloud you to take photos for this exact reason, so that me and my siblings could remember that day. I don't want you to feel like you were intruding because if it wasn't for you I would have forgotten that day. Thanks you for everything you have done for me and my family Sincerely John Pryor "

After the tears subsided, I wrote John back, "Hi John,I was hesitant to set up the gallery at first. I was concerned it might hurt more then help. I'm very happy it helped. 
The pictures definitely tell a story of the amount of love and support that was and is still there for you and your family. Of course I would respond. For as long as I've been working as a photojournalist (I was a sophomore at UArts when I turned pro) my goal has always been to be true to the people or subjects that I photograph. I feel as though I owe them something for allowing me to step into their lives and make pictures. So, I will always respond…good or bad.
It is nice to hear that you folks don't consider it an intrusion. That means the world to me. I am glad you did reach out. So many times in my career it has felt like we just step all over people and come in and out of their lives never knowing what became of them. In this case it sounds like you're growing into a fine young dude.

Your father would be proud. 

I'm certain your mom is as well."

Indeed. 

It's an image that actually helped someone.
It's life.
Uncensored.
Raw.
Powerful.

The email. That was gift. From a young boy turned into a fine young man.

May God Bless you and your family John Pryor. 

Your father is looking down from heaven and smiling.