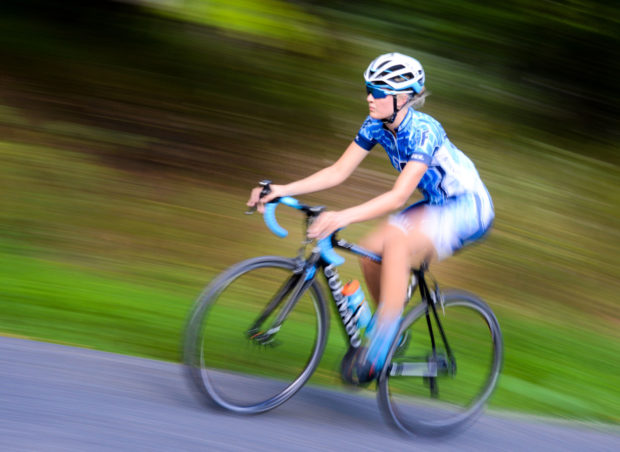 She really didn't want to. Her father insisted.
Five years ago, after the avid runner broke her big toe, Paige Shumskas was signed up for cycling lessons by her father at the Velodrome in Allentown. Her plan was to use cycling as a way to stay in shape until she could get back to running. Then she found she had fallen in love with cycling. She joined a junior development road team that summer. This season she has competed in 50 races.
Come September 11th, Paige will be competing in the women's pro race Bucks County Classic as the junior development rider of the Fearless Femme pro cycling team. Yes. Pro.
Paige competed in the Bucks County Classic last year, but she said it was at the end of her season, and that she was tired and didn't fare was well as she would have liked. She then added, "This season I'm more prepared cause I'm racing for a professional team." She is their junior development rider. She explained that "I mainly work as their domestique" where her basic role is to clog the front of the pack and set the pace for her teammates so they can pull ahead and be in position to win the race. "I do whatever I can to help my teammates win." said Shumskas.
Paige likes Criterium racing. She is excited about the Doylestown race. "This is like my hometown race. Everyone is going to be there. So I'm really excited for that." She said last years was different because it wasn't a pro race. This year the women's pro race features some of the best women racers in the country.
The season starts between March or May to September. When asked how she manages doing schoolwork during the season, she smiled and said, "I am really good with time management." Last year she had 3AP classes all with honors. Her instructors will give her work ahead of time so she can manage racing and school work.
The farthest she has traveled for a race was California to compete in Junior Nationals. In that race, someone in front of her purposely took her out of the race, causing her to crash.
She eventually hopes to race internationally in the pro women's circuit.
She loves Billy Joel, Elton John and Boston.
Today Paige is only doing an hour workout. She's taking it easy today since she suffered a crash this past weekend when a racer in front of her did something she should't have and caused a crash from which Paige need 7 stitches. She was happy to report that nothing happened to her bike in the crash and that other then the stitches, she only suffered minor scrapes.
I met Paige at her 14 acre family home in Pipersville. That is the area where she generally trains for races. How can you not? It is beautiful scenery to ride through.
As Paige rides up the road, one doe crosses the road, then another. Further up the road another doe crosses the road following her mother. A car comes closer to Paige. She cautiously waves the vehicle around her. Once past she gets back to work. The Fearless Femme steadily pedals up the scenic hilly road on her way to the next race.
Paige doesn't want summer to end, saying, "I want to keep racing! It's so fun!"
September 11, 2016 in Doylestown.
Her hometown race.