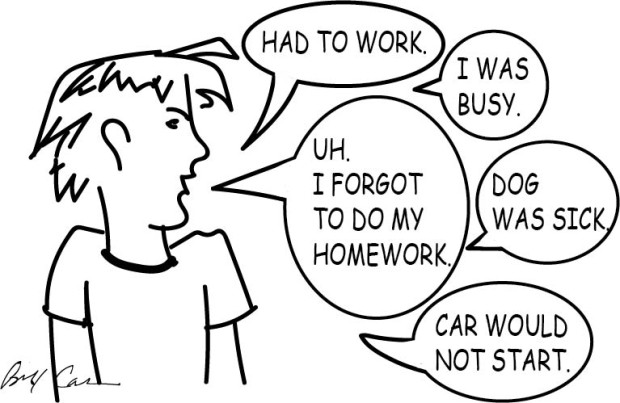 When I was teaching at a university, one of the biggest problems I found was that students never seemed to take a deadline seriously. It is one of the simplest rules. Get your assignments in on time! Not sure why that is so hard. Maybe they need to manage time better. Some of the excuses are plain stupid. One student said she had to work, another had a death in the family, another had her gear stolen. In that case, I asked for a copy of the police report. Never did receive it. I don't think the student realized that faculty members speak with each other and that I was told the student had used the same excuse a semester before.
Last year I had a student challenge her grade. She believed she deserved a better grade then I had given her. I told her I didn't give her a grade. She earned it.
She asked that I review the reasoning behind the grade she had earned.
So, I did. I made note that 8 out of 10 assignments were not turned in on time and they were almost a week late in most cases. One was never even completed. Another notation I made upon review was "student did not follow directions." In that case the assignment called for one program, which was readily available on campus, but the student chose to use another program. Thus, not doing the assignment the way it was intended.
When I explained that her lower grade was due to the fact that she didn't follow directions and couldn't meet a deadline. She still didn't understand.
This was my written response to her.
"I teach part time. I make pictures full time and have been doing so for 30 years.
I have never missed a deadline.
My father died.
I didn't miss a deadline.
My dog died.
I didn't miss a deadline.
My house flooded.
I didn't miss a deadline.
The list goes on.
No excuses. Just meet the deadline.
Sometimes my deadlines are weeks or days. Sometimes they are hours.
I still haven't missed a deadline. And that dates back to when I was a student attending University of the Arts.
I have also worked as an assignment editor. I call a photographer with an assignment. They get it in before the deadline. If they do not, I never call them again. End of story.
A photographer gets one shot to make a good impression. Meeting deadlines is key.
If I'm an art director and assign you to make a slideshow using this new software called Lightroom. We want to show what it does. You decide, since you don't have it, you'll use another program. I know Lightroom can be easily downloaded as a trial. You submit your slideshow, 6 days after it was due. Missed the deadline and totally screwed up my production schedule. The worst part is that as I look at the slideshow, I realize that it was not done with the software I, as the art director, hired you to use thus negating the whole project. Wasting my time, your time, and screwing up your clients production schedule. Do you think that the art director would ever call you again. The answer is no. Your one shot at making a good impression is gone.
The reality is that an art director or photo editor does not care if your father, dog, your house was flooded, you had studio problems for another class, etc… They care that you get the job done correctly and on deadline.
I appreciate the fact that you said you worked hard on the assignments. I'm sorry, but I just don't see it. 
You obviously have some talent, but I've seen is flashes of brilliance with long periods of mediocrity."
Unfortunately, I sometimes believe that students think we are insane and that we ask these tasks of them to make it harder on them. In actuality, we ask these students to do these tasks so they will have the knowledge and fortitude to succeed in the career they've chosen.
Hopefully, she gets it….soon.