Next time you or someone you know needs a new headshot, take the time to ask yourself, "what makes a good headshot?"
To me, and I've been working as a professional photojournalist for over thirty years, a good headshot needs three things.
1: Good light (light that shows 3 dimensionality of the subject)
2: Good face (it should show who you are and your face needs to fill a good portion of the frame)
3: No hands (no hands in face. hands are a distraction that take away light from the face)
This are three basic rules of thumb. Another factor that needs to be thought about is, what image are you trying to portray in your headshot? Is it for business, acting, modeling, etc.??
Your headshot should portray what you need it to for whatever the ultimate usage.
Most times what I see that photographers tend to provide for clients is not a true headshot, but a nice portrait. That's all well and good, but if it doesn't suit your purpose, it is useless.
In my last year working as a staffer at the Philadelphia Inquirer, I worked on the picture desk for a time. In that time, I had many business portraits come though the desk for profiles or news blurbs of people 's comings and goings from companies. I've seen them all. Nice simple images with a solid grey background to outrageously lit (overlit) headshot with a background of all different colors, cloud backgrounds and lots off what says they are not to be taken seriously. Many of the worst looked like high school portraits. Trust me, you don't want that.
That said. Here are my thoughts on what makes a good headshot for various uses.
I believe that a serious business headshot should generally have the subject fill the frame in a diagonal pose, with their face towards the camera. Hands should not be anywhere near the face and mostly be at your side or folder in front of you and never be part of the composition. And, a grey backdrop is appropriate. A cloud or various color backdrop is highly inappropriate for any kind of business headshot. If you ever go to a photographer that offers you that, run. By all means run like there is no tomorrow. That will not help you to be taken seriously in business.
A more casual business portrait can be made outside, in a shaded area and either lit by available light or strobes (that means flash). Positioning should be the same as a serious business portrait, but in a nice outdoor setting.
I believe that an acting or modeling headshot should have the same good solid light in the subjects face. Maybe not as three dimensional, but more frontal lighting. Maybe the composition should be slightly more diagonal.
One of the things that many people mistake for a headshot is an image that is more apporopr=iately used asa  portrait. A portrait generally shows more of an upper torso type of image which can or can not include hands. Generally, I always prefer that people rarely place their hands up to their face as the light tends to land on the hands and become a distracting plane in the image.
In the past when I was casting for a photo shoot, I would ask models for headshot. You would not believe how many models think a headshot is a three quarter length image or even worse yet, a full length photograph. I probably don't need to tell you that those were the first ones tossed in the can because they couldn't follow directions.  So, when someone asks you for a headshot, please, please, please, make sure that is what you provide. And make damn sure that your photographer can provide what you need to put your best foot forward, whether for business or modeling and acting. If you feel they can't, move on to a photographer that can do it. Correctly.
When I do a headshot for anyone, the first thing I ask is what is their end goal? What do they want to headshot to show? How would they want to be portrayed? Once I have an idea, we can then plan on wardrobe. I always suggest keeping things simple. In many cases dark earthy colors tend to work best. Stay away from any kind of patterns. That might take away from your face.
The way we'll set up headshot shoots is either individually or have a headshot day where we'll block out a four hour time slot at a company and they'll have 8-10 people set up a time for pictures. We actually just did a few headshot shoots over 7 hours where we were able to shoot 35 and 45 respectively.
This is done by bringing my mobile studio on location. It's pretty simple. Lights, reflectors and a stool. People.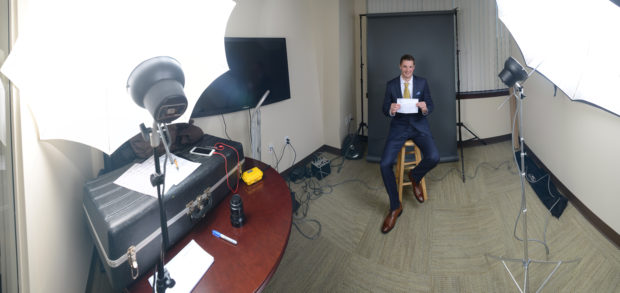 Each of the shoots takes maybe 15 minutes. The subject them will receive a link to a gallery of images for them to choose their favorite. In some cases we've actually had them choose the image they prefer on location by providing a laptop and showing  the images as we shoot live.
Next time you have to get a  headshot, think of some of the suggestions I've made here. The most important thing is to keep it simple. Show your best self and your headshot will be golden.